INVITING CALMNESS INTO YOUR HOME THROUGH INDOOR WATER BODIES
Outdoor Water bodies and Features
Water bodies and fountains are main attractions of the garden or an outdoor lawn. A lot of people invest a great deal in beautifying their gardens with water fountains and water bodies. This addition to their gardens is quite a common feature in landscaping of a house.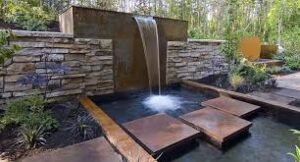 Indoor Water bodies and Features:
As much as water fountains have made a great impact in outdoors, they lack the same sort of popularity inside the house.  Indoor water fountains and water bodies are not very commonly used and are in fact very rare. People avoid using water fountains or water bodies indoors because it is not widely used in many cultures and maybe considered difficult to maintain or maybe to avoid any and all kinds of water related problems in the house. But due to modern day construction techniques and expertise it is now safe to say that these problems can be catered with. Indoor water fountains or water bodies can not only enhance ambiance or the decor of the house but is also helps in enhancing the health of a person.
Water bodies in commercial sector
Individuals now have started to recognize their psychological need for water and have started to bring the water features from outdoor environments to inside space of their homes. Water features were widely being used in commercial or industrial space and large building areas.
People visiting these places were mesmerized by the involvement of water features indoors. With the trust in modern day construction techniques people have started to put their trust in them and recognizing the need of having a water body or a water feature on a small scale in their homes. One of the main reasons of popularity of these water bodies being introduced indoors is that people feel the sense of connection with the natural environment. A waterfall always creates a peaceful and natural atmosphere and relaxes our mind, so why not benefit from these relaxing water bodies in the comfort of your home.
A standing water feature at the entrance lobby can create an immediate sense of calmness and relaxation to the person or the guests entering the hallway. It also adds peaceful ambiance to the whole house
A water feature like in the image shown below can be used in the hallway to make it look and feel special and stand out from other walls. It can also be very handy if you do not have a lot of space to spare.
Not only in the hallways or entrance lobbies water features are now also being added in the bathrooms to create more natural atmosphere and soothing environment. In fact it is a good idea to turn your wash basin into a water feature and that can serve both as a water feature and a washbasin as the same time.
Water bodies are meant to enhance the living experience as well as to provide the residents a soothing and calm atmosphere. They can be used anywhere on the walls, under the stair case, in the bathrooms, hallways or anywhere in the house. The idea is to enhance the ambiance of the house as well as to make the atmosphere relaxing and soothing.